Welcome to my stop on the Best Kids Quilts 2015 Blog Tour! As the special issue managing editor for the past couple of years, I always feel a great deal of pride when these issues finally get into the hands of quilters (up until that point, I feel a great deal of anxiety to make sure everything is accurate!). On behalf of the entire QN team, I want to say that we really enjoyed putting this issue together and hope you enjoy making the projects we included.
The project of mine in Best Kids Quilts is a toddler quilt I named Ducklets.
I made it last summer as an experiment of sorts. Because my younger daughter was heading toward her third birthday, I had been getting rid of the baby items we didn't need any longer. I admit I experienced a pang of nostalgia when the hooded baby bath towels went into the "Donate" bag, but I just couldn't bring myself to get rid of the flannel receiving blankets. It didn't matter that we weren't using them anymore; they were no longer blankets in my eyes — they were fabric. So into my stash they went.
I designed Ducklets by enlarging a block pattern I'd used once before to make a block for our regular Staff Picks section called whirling square. It's not a block you see very often, which is a bit of a shame.
With only half-square triangle units, squares and rectangles, not only is it an easy block to make but it's full of design potential, including altering the size of some patches in relation to the others to completely change the look. All I did was enlarge the block to 36″ for the toddler quilt. With the addition of three sets of borders — two solid, one strip pieced — the pattern design was done.
I chose coordinating gender-neutral receiving blankets that we'd received before our first daughter was born (we didn't find out her sex prior to her birth, so we had a lot of green and yellow infant items). Some of the blankets had received more use than others, so they all got a good washing and machine drying to try to shrink them up equally.
The thing I like about this quilt is there's no time to get bored with any one step: there's not a lot of cutting required; the piecing goes quickly; it's easy to baste because it's small; and even if you hand quilt part of it as I did, it doesn't take long at all.
You may notice I called this a toddler quilt and not a baby quilt. As someone who's had two babies in the past few years, I know that it's likely most "baby" quilts don't get much use that first year due to official recommendations not to put any bedding into an infant's crib for fear of suffocation. So if you've made a baby quilt for someone and are afraid it's not getting used, it's very possible the parents are just waiting until the child is old enough to crawl, sit up or even stand with no problems before they put the quilt into the crib.
Going back to the quilting: I did most of the quilting on Ducklets by machine but, inspired by the sweet ducks on one of the blankets I used, I found the perfect duck motif in my copy of Quiltmaker's Quilting Motifs Volume 2 that I used for the large panels along the sides. I big stitch hand quilted them using various colors of size 8 perle cotton threads. Even with two layers of flannel (I pieced the backing from leftover blankets) and Warm & Natural cotton batting, I found hand quilting in this style to go smoothly once I figured out the best tools to use. Give it a try sometime!
Be sure to check out Quilters Newsletter TV: The Quilters' Community starting Friday, May 15, to watch an episode in which I talk in more detail about things to look out for when working with flannel.
Speaking of which, I have a great prize for you. Of course you could make Ducklets with your own selection of receiving blankets, but with the great variety of juvenile flannel fabrics out there I wouldn't blame you at all if you headed straight for your local quilt shop to get the fabric you need, such as The Wild Bunch collection from Robert Kaufman Fabrics (which actually hasn't even shipped to stores yet — this is a sneak peek!).
There are three other prints in the pack in addition to the one you can see in the photo above, as well as solid squares in aqua and dark brown: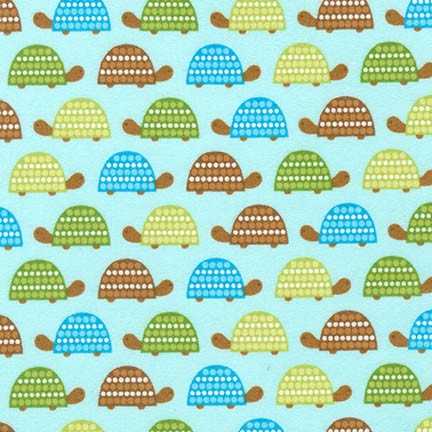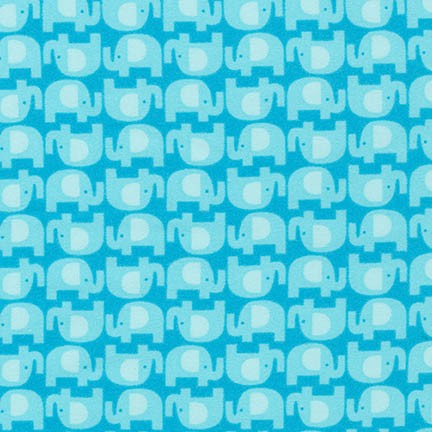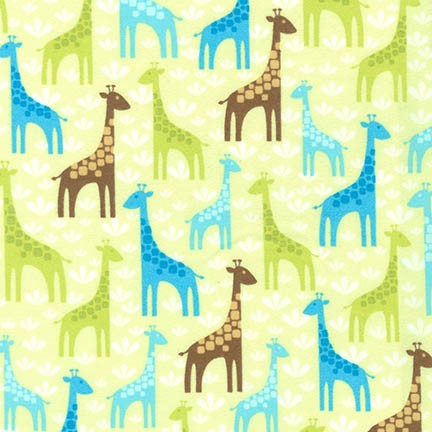 Adorable, am I right?
Leave a comment before 11:59 p.m. MDT on Sunday, May 10, 2015, for a chance to win a Ten Square Pack (42 10″ squares) of The Wild Bunch collection in Flannel by Pink Light Design, Park colorstory, from Robert Kaufman. Open to anyone worldwide who has not won anything from Quilters Newsletter in the past 90 days. If you are randomly selected as a winner, the email will come from QNMquestions@fwmedia.com with "Quilters Newsletter blog giveaway" in the subject line.
As always, to find out about Quilters Newsletter's giveaways, quilting news, tips, techniques and more, visit us on Facebook, Twitter, Google+, Pinterest, Instagram, YouTube,  QNNtv.com and our website. Plus, see Web Seminars on QuiltAndSewShop.com and classes, courses and workshops on Craft Daily.com and CraftOnlineUniversity.com.